Chris Bourne
Chris joined the lighting industry in 1981 and has worked for some of the leading brands. Over the last four decades, Chris has witnessed the evolution in technology from conventional lighting techniques to the present day LED and Wireless Lighting Control systems. He adapted to changing market requirements and kept his knowledge abreast of new industry practices. The need for simplistic, cost-effective, easy-to-commission and easy-to-use lighting systems has become prevalent in a number of industries. Chris has a wealth of experience working in all market sectors, including education, health, corporate, distribution and retail.

Chris brought several years of experience in looking after the emergency lighting requirements of various government agencies to Sigma Tech 360. He joined us as a lighting system expert and looks after the Emergency Lighting requirements of our clients with excellence. His first-hand experience has been tremendously helpful for the company. It enables us to deliver intelligent and efficient lighting systems to our customers compliant with modern industry standards. He helped us develop a cost-effective Wireless Emergency Lighting Testing solution for optimised maintenance of an estate.
Mark Spavin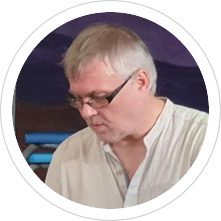 A couple of years after building his first computer, in 1977, Mark Spavin took an engineering apprenticeship with the market leaders to gain experience in electronic manufacturing. He later moved to Educational Electronics, most notably working on VELA – an innovative data logging tool for schools and universities. Mark designed the first GPS receiver in the UK using his expertise in Polytechnic Electronics. He developed systems using bare-metal coding and successfully built many award-winning products for software and hardware projects.

Mark worked with many renowned companies in his illustrious career, including Bentley, Panasonic, Yeoman Marine, Navstar, Peek Traffic, Glance Information Systems and Medix. With his diversified set of skills and knowledge, he worked for Cognito, Sony/Ericsson and later joined Vodafone. Working as Technical Authority in Vodafone for Paknet, Mark collaborated with Microsoft on their venture to enter the mobile phone market. He has been designing systems for significant utility suppliers, security firms, banks, and government initiatives like smart metering for over a decade.

He brings immense value to Sigma Tech 360 through his years of distinctive expertise and industry knowledge. His contribution to developing Unite, a simplified Wireless Lighting Control system is invaluable.